Forms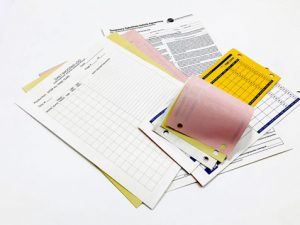 Well-designed forms can make a business run smoothly, but they are often overlooked. Having a good form to hand out to potential clients or staff members gives your company a professional and organized appearance.
Forms also assist with the workflow within the company. If filled in and filed correctly, they make locating information quick and simple.
Minuteman Press creates easy-to-use personalized forms to suit your professional needs and the needs of your business. We can even finish them so they can be inserted into binders for easy filing.
| size | colour | # of sides | stock | finish |
| --- | --- | --- | --- | --- |
| 8.5″ x 11″ | full colour | one-sided | uncoated | numbered |
| custom | black & white | two-sided | | perforated |
| | Pantone | | | punched |
Carbonless
Quote, invoice, delivery, receipt, and purchase order books are all forms of NCR. These allow for multiple copies to be made quickly and easily when the top sheet has been filled in. These can be made up with as many carbon copies as you need. Sets within the book are on different colored stock so you can identify which copy needs to go where, or to whom.
size
colour
# of copies
stock
finishing
8.5″ x 11″
full colour
single-sheet
white
stapled
custom
black & white
multi-part
yellow
punched
Pantone
pink
numbered
blue
perforated
green
security guard
*contact us for stock & finishing compatibility